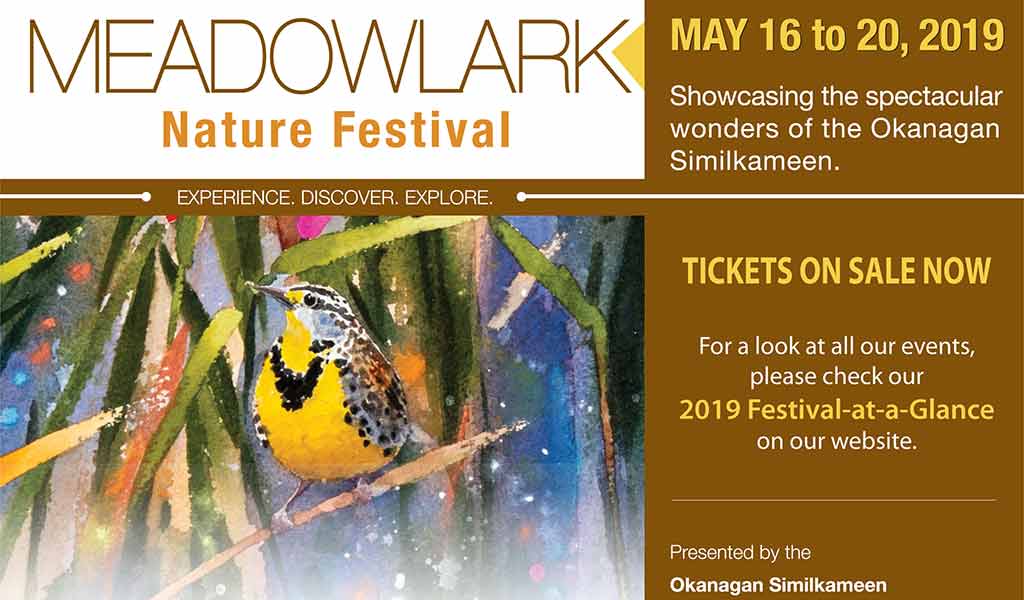 The Meadowlark Festival returns on May 16th. Taking place this May long weekend, experience the beauty of nature, music, food, and art!
What can you expect from this years festival?
Explore and Discover. The festival will showcase the beautiful and awe-inspiring nature of the Okanagan and Similkameen with over 70 tours including hiking, cycling, canoeing, guided tours, and more
Live musical performance by Ari Neufeld. The talented musician is a self-made, one man band, playing guitar, piano, banjo while singing and keeping time through an amplified stompbox, with ethnic beads, nuts and bells strapped to his body.
The art of 2019 featured artist Alex Fong. Alex's paintings are an impressionistic kaleidoscope of light and whimsy, distinguished by a parade of coloured flecks that he calls "confetti" which represent his celebration of life. His art entitled One Moon is the center piece of this year's festival. Limited edition signed canvas prints are available for purchase!
The Birders, Burgers and Beer dinner and auction at Penticton Golf and Country Club. Each year the Festival is kicked off with a dinner and auction fundraiser. This year's takes place May 17 from 5pm to 7pm. Enjoy a delicious meal, including chicken, veggie or beef burger, fries, salad, and a drink of choice.
Wings on their Fingers - Bats of the South Okanagan Bat biologist Tanya Luszcz takes you on a fun and interesting evening of batting at Sun-Oka Beach Provincial Park and introduces you to these amazing flying mammals. Your night begins with a slide show about the diversity of bats in the Okanagan and beyond.
Rattlesnake Island Kayak Tour: Join Hoodoo Adventure guides on an exhilarating paddle to the lair of the elusive Ogopogo. Departing from Peachland, you'll cross Okanagan Lake to Okanagan Mountain Park's Rattlesnake Island. Learn about the island's unusual history from your guide before making your way to the top to explore the remnants of an abandoned theme park.
Start your spring at the Meadowlark Festival by purchasing tickets at meadowlarkfestival.ca!